31.07.2017
Every couple needs to spend a few days together from time to time just to refresh their feelings. In our fast-paced world, it's so easy to get carried away from your loved one by a crazy life rhythm with its everyday activities, problems at work, house chores, shopping, and hundreds of smaller things that became a part of our busy schedules. Some couples can spend months away from each other while living together at the same time; they don't talk to each other; they don't have time for each other. In such sad circumstances, the idea of spending a couple of days away from all those aspects that make your life monotonous and dull gives couples a chance to get to know each other again, recall some of those old feelings and have some much-needed rest.
Having a Russian bride adds more meaning and reasons to a romantic getaway besides relaxation and refreshing of feelings. In this case, a weekend spent together is about getting to know your loved one not only as a person but also as a representative of another culture. It's a great opportunity to overcome barriers that might become a problem for your future family life and show her your love once again. In this article, we'll give you five ideas for a weekend getaway for two that will make your feelings stronger.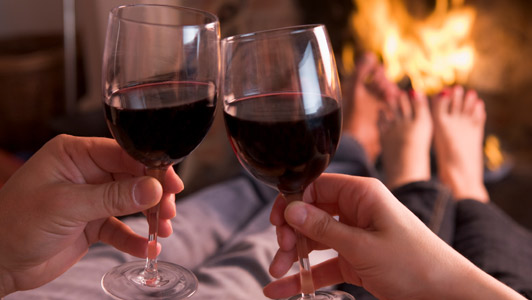 Why romantic getaways are so important for the relationship development
If your relationships are still strong and full of romance, and you want to keep it that way, then a weekend getaway for two is just what you are looking for. In case if you plan everything right, it can give your new-born marriage more bright emotions than a two-week vacation. Below are five more decent reasons why romantic weekend getaways are great for your relationship.
They bring you closer to each other
Spending time together with your loved one is important for keeping your feelings alive. A couple of days far away from friends, work, and daily routine allow both of you to take a small break and look at your family life from the side. After returning home, you'll feel like you've become closer to each other, but when you're on your short vacation, you have time to discuss matters important to you. When there's no one around but your significant other, conversations become much more intimate and pleasant.
They add more romance to the relationship
What can be better than sharing two or three days with your loved one, making joint photos and creating memories? When we're talking about Russian girls and dating, a romantic atmosphere is essential. Surrounding your Russian bride with care and love is the best present you can ever give her. She will need at least a month to recover from such dose of romance.
They relieve stress
No matter where you work, every job is mentally and physically exhausting. Sooner or later you'll reach the boiling point and start lashing out at people around you. And your loved one will probably be the first one to take a hit. The same goes for her. If you feel like blowing up your workplace to pieces, it's the sign that you should take time off and take your bride with you; after all, that's what romantic getaways are for. A little holiday will distress you helping you regain mental strength so you could focus on your relationship. You can make your mini-vacation even more sensual with massage. Apart from relieving physical and mental stress, it brings you closer to each other. Besides, a simple massage may end with something more pleasant.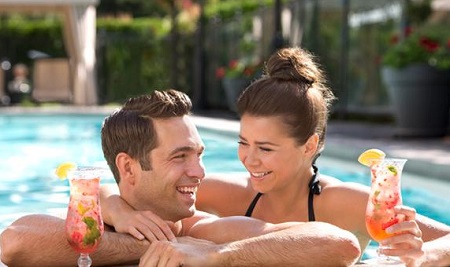 They will bring more passion to your relationship
There are times when a busy working schedule or other obstacles leave no place for passion in the relationship. A small weekend getaway allows you to refuel your family life with it. Drinking a bottle of wine under the stars, swimming in the ocean at night when there's no one except you and your loved one, or taking bath together surrounded by aroma candles are just a few ways to bring more passion into your life.
They add variety
One day, you'll get sick of your relationship, no matter how great it is right now. That's why you need to spice it up from time to time. And a weekend getaway will be a perfect opportunity to do it. There's no better way to break free from daily routine than to spend a couple of days together with your Slavic bride. After that, you'll forget about monotony for quite a long time. If you want to feel all those benefits, just book a couple of days in some location you both find suitable for a romantic getaway. Oh, and if you think you can't afford a mini-vacation, don't worry. For Russian women, dating is not about spending lots of money. No matter how tight your budget is, you still can have a great time together.
5 ideas for a romantic getaway for two
When you finally have a chance to spend time off with your hot Russian bride, you'd probably want to make every minute pleasant. That's why you need to consider a number of factors, including budget and destination of your romantic getaway. Given that you don't have much time on your hands, as we're talking about a two-three-day off, such variants as a beach resort in Thailand are probably not an option. That's why you should turn your mind to one of these ideas. Just pick one to your liking and begin planning your future trip. But remember that for Russian girls, dating means a lot, so be sure that your loved one would enjoy the time off.
1) A two-day cruise to nowhere
Such romantic couple getaways as cruise will always be a great option for a vacation; the only thing is that they take too much time. But if you want to feel the experience of a sea voyage in a couple of days, there is a perfect solution for you - a cruise to nowhere. You can spend one or two days on a cruise ship that stays in the port. The problem with such kind of a weekend getaway is that it isn't cheap. But the ship doesn't go anywhere, so you won't be distracted from relaxing and enjoying all the amenities a real cruise offers, including spas, Jacuzzis, swimming pools, and other kinds of entertainment. You can do whatever you want from watching TV in your cabin embracing your Russian bride to taking midnight strolls along the ship or watching a comedy show. And all this is in one place at the same time. And who knows, maybe you'll enjoy this little time off so much that you'd like to spend your next vacation on a real cruise. There are a lot of cruise lines that offer cruises to nowhere in many major cities; all you need is to do a little research and find one that suits you most. Sure, it's not the cheapest romantic getaway idea, but it's definitely the most comfortable one on our list, and your Slavic partner will appreciate it.
2) Explore your own town
This idea has two advantages: you don't need to go too far from home, and you get the opportunity to show your Russian bride around your town if she hasn't been there before. Book a room in one of those fancy hotels you always wanted to check out, have breakfast in its restaurant, and go exploring each street, sight, and shop you've walked by thousands of times without stopping by. Go for a walk in the park or take a tour around unfamiliar neighborhoods admiring the view. Try to avoid places you visit every day, like a grocery store you go to after work or a stand where you buy hot dogs during a coffee break; nothing should remind you of your daily routine. There are probably one or two recently opened cafes or restaurants, so why don't you check them out. Such romantic getaways like this are perfect if you're not planning to spend much. Besides, according to Russian women dating sites, Slavic ladies love long walks.
3) Go camping
A small two-day vacation spent close to nature is the best cure for stress. First of all, you should decide how close to nature you want to be: You can rent a cabin, stay in your car or rent an RV (this variant has an advantage – you won't have to carry heavy backpacks), or do it the old-fashioned way – take a backpack and a tent and go hiking. Different campgrounds offer different conveniences: some may be equipped with clean toilets and showers, while others are a bit rougher, having pit toilets and no clean water, so you need to bring everything with you (not every woman likes such romantic weekend getaways). Perhaps it would be better just to pack your stuff and rent a house somewhere away from the city noise and close to the icy mountain river for a couple of days. There must be no supermarkets, TV, Internet, microwave ovens, and soft beds. If you and your Russian bride are crazy enough, you can also try to give up shower. Give camping a whole new meaning. Your task for the next couple of days is to love and enjoy each other. Breathe in fresh air, cook some simple and healthy food on the campfire together, have sex right under the starry sky and bathe in the river. In other words, listen to your primal instincts. Don't forget to take warm clothes and a first aid kit with all the necessary medicines with you. Put off your laptop and other benefits of civilization, but it is better not to leave your smartphone at home. You never know what can happen. But you can turn it on only in the case of emergency!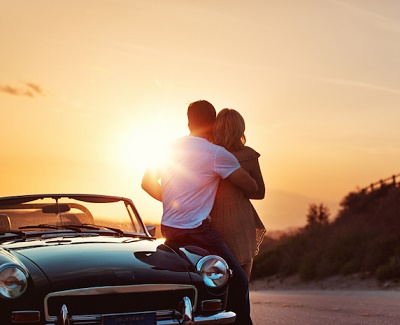 4) Hit the road
Probably, there is not a more romantic way to spend a few days together than a car trip. There are only two of you, you don't depend on anyone, but the whole world is under your wheels, and the only thing you need is to choose where you want to go. You have plenty of time to talk, get to know your partner from a new perspective, spend the night in a car, get mad at each other, become disappointed, and fall in love again. In other words, you get the opportunity to live a lifetime together in just a few days! Plan the trip so that there were no more than 2-3 hours between stops. Traveling in this way is much more convenient – abundance of small towns won't let you get tired from a long sitting at the wheel, or get bored of monotonous road markings. However, there's no need to resist the desire to turn off the road in an unexpected place. Who knows what you can find. Be sure to take a tablet with internet access, so you can search for information about interesting sights. You will also need a GPS-navigator. A couple of chocolate bars or a bag of chips in a glove box will be a pleasant bonus.
5) Go diving
The best way to deepen your relationship is to learn something together or to find common interests. Here's a great idea for a joint hobby – diving. There's nothing more pleasant than romantic beach getaways, of course, if there is a beach near you. It can be very romantic because, under the water, you'll get the feeling that there's no one in this world except you, even if there are dozens of other couples diving around you. Think that diving is not for you? It trains all muscle groups, teaches to breathe correctly, and cleans the lungs. But all this enormous exercise stress won't stop you from admiring the stunning beauty of nature around. Take a special case for underwater photography and don't forget the soothing body cream. Scuba diving suits plus staying in the water for too long can badly affect your skin.