27.02.2018
The technical capabilities of the 21st century are at their peak now, and progress doesn't stop there, as well as the imagination of a man, who always finds the opportunity to apply technical innovations, both for the benefit and harm. That's exactly how we got this new online trend called sexting.
Maybe you've noticed that the Internet has been recently filled up with nude pictures of celebrities, stolen from their devices. Most of these photos were probably addressed to their lovers, and this is what sexting is all about. But we decided to dig deeper and find out what else lies behind this term and how it can help spice up your intimate life.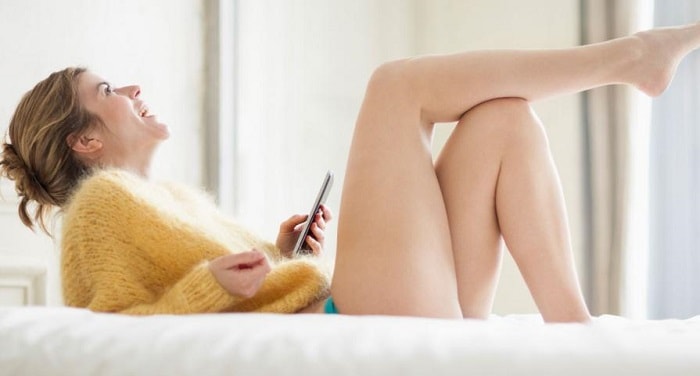 What is sexting and how to take advantage of it?
Let's start with a bit of theory. What is sexting? It's an exchange of intimate messages or photos between two people. Simply put, photographing yourself naked and sending the pictures to your girlfriend, you use sexting as a way of communication. In our time, when even your watch can take pictures, it would be strange if we didn't involve gadgets in our intimate life. Therefore, the words you could only whisper in your loved one's ear can now be sent via WhatsApp together with a kinky pic.
Girls usually send intimate photos to once again remind their boyfriends how lucky they were to pick up such beauties or to prove to themselves that they're worthy of an erotic photo shoot. Guys use sexting mostly for fun.
Is sexting cheating? That depends on the person you send your messages and pics to. Sexting is like all other attributes of intimate relationships, so it should be strictly personal. Sending nudes to someone else except your girlfriend can be considered cheating.
The pros and cons of sexting
There is much debate about whether it's worth sharing intimate photos and messages with someone else or not. Like any modern Internet phenomenon, sexting has its pros and cons.
For some 'liberated' couples, emoji sexting can become a great tool for spicing up the relationship. It can help both partners create the right mood for the evening of love. It always feels nice to receive a playful message from your loved one. If you doubt that sexting can be beneficial, think about the couples that have to withstand the test by distance. Relationships often fall apart because partners are forced to live in different cities or even countries for some reason. That's where sexting can come in handy, helping couples not only to communicate but also keep that fire of passion burning hot.
But we need to warn you that sexting conversations may at one point stop being personal. There are a lot of reasons for this. Maybe you had a fight with your partner, and she decided to take revenge. Or you lost your smartphone with intimate pics on it, and they turned public.
How to use sexting to your advantage
Can you benefit from sexting? Yes! And here are a few ways to do it.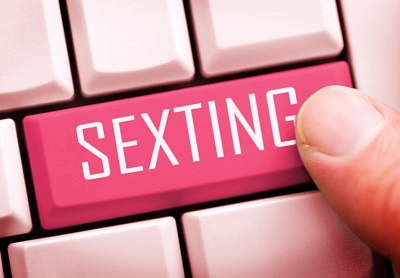 1) You can learn more about your partner's desires and fantasies. Sometimes it's difficult to tell about your hidden desires during a tete-a-tete conversation. We're afraid to admit something we can be judged for. It's easier for us to hide our fantasies just to be "like everyone else." This is some kind of herd instinct of dissatisfaction. Is sex a taboo? If yes, then I'll keep my mouth shut. But a bit of some Snapchat sexting will make it easier to open up to your partner and understand her fantasies, eventually realizing them. Maybe she wants you to be a bit ruder. Maybe your intimate life has become too boring. Text messages are perfect for flirting: you don't blush, calmly waiting for a reaction to your desires. Besides, you always have time to think over the answer. Just try the sexting, and you'll see how it liberates.
2) You can awaken your partner's sexual interest to you from a distance. A couple of sexting messages and photos is enough to prepare your partner for the night of love. If you don't have much free time after work, why waste it on foreplay? Take a picture or two and send them to your girlfriend when the time comes.
3) Become more confident in yourself with the help of sexting. If you think it's impossible, you just haven't tried it yourself. When a person is loved and desired, his or her self-esteem grows. It's like being the most wanted actor in the world: everyone wants you, but not every girl can handle you. Write intimate messages more often, and you'll feel much more attractive. But don't get addicted to sexting: if you start flirting with every girl, you risk finding your nude pics on websites they don't belong to.
4) Don't delete intimate messages to enjoy them once again. Over time, we forget what we say. Time erases everything. People tend to fantasize and embellish things. But the advantage of WhatsApp or Skype sexting is that you can store messages and photos your girlfriend sends to you. Those sweet words and hot pictures will always stay at hand.
5) Use sexting to always be close to your partner. How great it is to have someone, who thinks of you every night. Your girlfriend can wait for your intimate message for weeks, and, having received it, smile and feel your love as if you were with her at that moment. It's nice to know that in another city, in another bedroom, she thinks about you. Physically, you're far away, but virtually, you are in the same bed, next to the person you love.
Now you know about all the benefits of sexting, but how to use them if you don't know where to start? These tips will help you.
Tips & examples for sexting her
Men's and women's attitude towards the idea of sharing erotic photos online is quite different. While guys usually take intimate pics and messages for granted, the representatives of the fair sex aren't that happy to receive surprise nudes. Taking these differences into account, we have compiled a small list of sexting tips for guys.
How to initiate sexting
First of all, have some patience. Some may find it difficult to accept this advice, but still: sexting should only come after sex. There are several reasons that justify this rule.
Firstly, your message won't come as a surprise in this case. It would be strange to have a drink with someone at the bar, and then get a couple dozen dirty messages, don't you think? No sexting ideas will help you in this case. Expressing your sympathy too radically, you can scare your companion off.
Secondly, too intense sexting can set your expectations for future sex too high. The right attitude is one thing, but the high expectations are a different one, and sexting can spoil everything. It's unlikely that you want to find yourself in an embarrassing situation when the reality turns out to be much worse than expectations.
Thirdly, intimacy is the most natural reason for starting a more intimate chat. All you need is to start the sexting conversation with something like: "I can't help but think about yesterday's evening..."
Start with text messages, leaving pictures for later. Words are no worse than photos. Besides, many women like them more than photos. It's the best way to find out your companion's attitude towards sexting. If she ignores your messages or sends vague answers with no intimacy in them, you'll understand that you shouldn't make things more awkward with nude pictures.
The quieter you go, the further you'll get
Women want to be seduced. But most men make a mistake by rushing things. Act smoothly. There are a couple of sexting examples that work best in this case:
I keep on replaying everything that happened yesterday in my head...
I can't stop thinking about what happened last night.
I was thinking about what we could do when we meet next time.
If the girl answers you immediately, sexting has begun. If she doesn't, wait a bit and write again.
When it comes to photos, pay attention to her mood
And now for the sexting tips: don't send surprise nudes to her. You need to be sure that your partner wants to see them. There's nothing that women hate more than a picture of a penis they didn't ask for. Besides, you don't know what exactly your girlfriend is doing at this moment and how her phone displays new messages. Perhaps, she's having dinner with her parents at this moment, showing photos from her recent trip to a museum to her dad. And now imagine your naked body appearing on her smartphone's screen.
There is an algorithm that can help you move to a new level. Next time, after exchanging intimate messages, ask her to send you a picture of her. It should be something unusual but not too erotic. Behave naturally and decently. Write something like: "I don't know how you feel about it, but I'd like to see the photo of you wearing an evening dress/your favorite T-shirt/dinosaur mask/whatever. Don't show your face if you don't want to, and I promise to delete the photo once I see it. And I can send you my pic in return if you want."
What does this message say? That everything depends on her decision, and you promise that your sexting conversations will stay confidential and are ready to prove it by sending your photos. It's also a good way to protect yourself: if your partner's against exchanging such photos, it's better to find out about this before you decide to send her one of them.
If she asks for a photoresponse, follow the same tactics: tease her but don't open all the cards. You can start with a selfie in the bathroom. Your body, wrapped in a towel, will be a great start.
Perhaps, it should be mentioned that sexting isn't about sending your naked photos from all angles, or even worse: pictures of your intimate body parts. It looks tasteless and not very attractive. It's about showing creativity and making a naughty, but not too forthcoming selfie, teasing your companion. Your photos should leave a lot of space for imagination. And remember that by sending nude photos, you can't be sure that your partner's gadget won't accidentally fall into someone else's hands.