30.05.2017
People forget about the main thing in today's world of constant worries – about the relationships. More and more men can't find companions for life. And why is it so? Work, career, inability to communicate with girls, unsuccessful relationships or even marriage – all these are the reasons why adult men are left without soul mates.
Everyone knows how to communicate with peers, how to ask them out on a date, and what to talk about. But how to date younger women who dream about a prince on a white Mercedes? So, today we will figure out how to build relationships with girls who are much younger than you.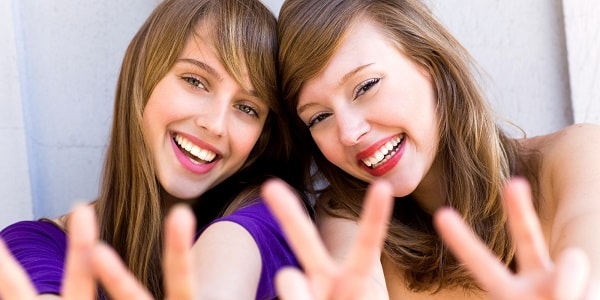 What is it like to date a younger girl
Young women have a certain attraction that goes beyond just "physical beauty." Young women have a distinctive atmosphere to them. If you meet a woman who has recently entered the adulthood, then you will soon notice that there is an amazing energy that she brings into your life. The most interesting thing is that the majority of men who date women younger than themselves, begin to feel younger and happier.
We do not claim that dating a woman of your own or of an older age is bad. No, not at all. We mean that if you are attracted to young women, it is very good, there are a lot of benefits in it.
Stereotypes about young girls
There seem to be 3 main stereotypical types of young girls out there:
Those who do what they want, regardless of stereotypes. This girl will admire you for your life experience and will always seek your approval and advice.
Those who are overly interested in what others think of them ... These beauties are very competitive. They often enjoy the thrill that they get by being with a man who is older than them. They value money and expensive things in such relationships.
A pretty girl who really loves you. She may not be as graceful and witty, but she adores you. She is tired of hearing that her peers are better. While these are just stereotypes, this is still something to keep in mind.
Why women date older men
Sigmund Freud wrote that parents become the prototypes of the partners we choose in our adult lives. Boys fall in love with girls like their moms, girls love men like their dads.
Many women instinctively seek men older than themselves, because they felt little to no fatherly love, care, and attention in childhood. Or maybe a woman grew up in an incomplete family, where for some reason there was no father at all. Or maybe her father was an alcoholic. You cannot rely on such a man for support. At that moment, when he is most needed, he is somewhere else. She is desperately looking for love and understanding from others and most often isn't able to find it.
How to attract a younger girl:
Lose weight and get at least some semblance of muscle mass.
Get rid of acnes and black spots.
Care for your personal hygiene (shower and brush your teeth twice a day).
Shave daily (if you have a beard, then you need to wash and comb it daily, trim it regularly).
Your nails should be clean and have a neat shape to them (you may want to visit a salon for that).
You should have a good haircut and wash your hair every single day.
Use antiperspirant deodorants.
Watch after the condition of your clothes and shoes.
Get a good perfume, yet don't go too hard on it.
Every man should look neat. Guys that emit unpleasant odors are hellish creatures that have no place among normal people. Please be neat, clean and fragrant, it's not at all difficult today.
Advantages of dating a 20-year-old woman
I
t's much easier to impress them
You can tell jokes and they will think that you are witty if, of course, they understand your jokes. They will be glad to receive any gift, any trinket that you'll give them.
You will feel more confident in sex
It is very important for men to feel their sexuality, and they begin to believe in their irresistibility and ability to interest pretty young girls. When men have younger girls, they feel that they are able to satisfy any girl. In addition, sex with a young girl proves that a man still can do something in bed. A man can surprise her and teach something new and this gives him some confidence in his sexuality.
You can start a new life
A young wife is a chance for a new life and for a second youth. A man will highly appreciate his young wife as his second breath, as a great success that is given by fate. A young woman will be financially secure, and this always calms down. Of course, you can consider it a manifestation of materialism, but agree that this is an important life aspect. A man, who is much older, should be established. And also he has to know how to earn money without spending 24 hours a day at work.
You will have authority in her eyes
The invariable advantage of men of mature age is their authority. Cute young girls will consider them the most intelligent, the strongest, the wisest men. Also, the most responsible decisions will always be made by men. After all, these young girls are small and defenseless, so they will constantly be behind their men like behind stone walls.
Young girls have beautiful bodies
It's clear that hot young girls look better than old women. Men understand this perfectly. What could be better than a young, beautiful, and nice body that is available at any time of the day or night? Probably, nothing.
Young girls don't have the past
They don't carry in their heart the burden of previous relationships and don't suffer from excessive suspicion. They openly look ahead, are not afraid to build relationships because they haven't yet experienced sufferings of betrayals.
They have good health
The younger your woman, the more chances you have to experience the happiness of paternity. Of course, not every girl wants to give birth to five children. But if a man is dreaming about a big family, then he will have much more chances to realize his ideas with a girlfriend who is over 20 than with his coeval.
Life with a young wife gives new emotions
A mature man will have a lot of power, energy and be in a good mood. He feels loved and needed.
Disadvantages of dating a younger girl
1) Young girls are wild, this world is newer to them than to you, thus there are many more things to experience to them. This fire of youth may lead to negative consequences. She may want to go out with a different man and experiment with sex and love in general.
2) Lack of experience will be a factor in such a relationship. She might get into a trouble or two because of it, so keep that in mind.
3) Financial burden. While this is cynical to call it this way, but this is the truth. A mature woman will be able to provide for herself, while a young woman is unlikely to be independent in this regard, thus, she will rely on your support.
Tips on dating a younger girl
Below are some guidelines on how to properly behave when it comes to dating young women. Many men make certain mistakes in their company, so you should know in advance what could go wrong. At the same time, we will also take into account the importance of respect and some aspects of behavior of these not yet fully formed personalities. So here are our recommendations:
Be cool. Be confident.
Behave with her, as if she is your younger sister.
Be the undisputed leader and mentor in your communication.
Do not try to use deception - young people don't like it.
Do not try to get into her life too quickly.
Do not pursue her and do not push on her when it is difficult for her to meet you - after all, she has a lot of problems of her own.
Expect that in the near future her personality will begin to change and help her with that.
First date with a younger girl
Here are a few tips that should help you to have a good first date with a younger girl:
When communicating, avoid awkward pauses. This embarrassing silence should be avoided at all costs. Talk on some neutral topics instead of just sitting there in silence.
Find the right pace. Some girls are open to communication and quick development of relationship, some are shyer and want to give it some time. Different approaches are required.
Let her speak. I know that you are a very interesting man and all that, but you have to give her a chance to talk about herself too.
Don't talk about sensitive subjects. Religion, politics, previous relationships, all of these things are forbidden. Nothing good will come out of them.
What to talk about with a younger girl
Ask the right questions. Ask those questions that imply a long and detailed answer. Thus, she will feel like you are truly interested in her. Ask about her passions and goals and not just about the place of work.
Traveling. Ask her about the places she visited. Are there any places that she wants to visit? You, too, can safely tell the same thing regarding yourself, your experiences and future plans.
Childhood. Stories from childhood are engaging and fascinating. They bring back lots of positive memories, even if you grew up in different periods of time, you will still find lots of things in common.
Books and movies. There is always a room for error, but neutral topics like literature and movies are the safest options for any situation. Talk about your favorite movies and books, ask her about the same thing.
How to pay attention to a younger girl
She might be obnoxious and wild. This is a thing to expect. She may turn out feistier than you have thought, but this is fine, she will become wiser and smarter in your presence. Such behavior is easy to disregard, yet you should pay attention to her and learn to enjoy the things she enjoys. You might want to visit a night club with her, or really any other place you have forgotten over the years. You will become younger in her presence. The only thing needed is to respect and pay attention to her. She will value this attention, as, at this age, she needs protection and positive affirmations. You have to become her guardian in order to conquer her heart.
How to date a young girl: The main rules
A man should be in love
For a relationship to be long and strong, you must really like it. In this case, you will not need to put on a mask and play a role, you can and should behave naturally in a relationship with a girl. Remember that in a relationship you have to be natural in everything. This is the main factor that affects the comfort level of a person near you. It is always pleasant and easy to communicate with a man, who behaves naturally, like a real person, and not just an act. Be yourself and then there will be no problem for both of you.
A man should be confident
Try to demonstrate your confidence in everything you do. Show your confidence in things that might not require it. But, in this, there is a big difference between being confident and cocky. You should be cool, calm and collected. You should be able to say the word "no." But still do not forget about compromises, otherwise you will look stubborn for the sake of being stubborn. The worst thing you can do is to look as if you are trying too hard to be thins confident figure. If she will be able to see through these lies – then it's over for you.
A man should be gentle
Remember, young girls are very thin-skinned, touchy creatures with a sensitive psyche. They are easily offended and it is hard to get their trust back after you've lost it. Even if no signs of insult on your part are noticeable, it does not mean that everything is normal and you should not worry. Pay more attention to the eyes of your girlfriend. They are known to be the mirror of the soul and only there you can see the true answer to any question you may have. You should be reliable and wise and not a constant source of stress and negative emotions.
A man should surprise his younger girl
Do not forget to surprise your girlfriend at all times. Think of all the original places for a date. For example, you can arrange a romantic date in an old and abandoned house, from the windows of which amazing panoramas of the city open up. You can also invite a girl to some amazing excursion, for example, to a wonderful ancient fortress. Also, do not forget to make unplanned little gifts. Give small, but neat gifts. For example, you can make a gift with your own hands: a card with a poem written for her. There are many things to be found online, you just have to care for her feelings.
A man should care for his own appearance
Appearance can tell a lot about a person. After all, when we meet a person, we evaluate him by his appearance. If your appearance will not impress her, the girl may not pay attention to you at all. Remember that your clothes should always be clean, tidy, ironed, shoes are also quite important and should be kept clean.
Secondly, you should always smell good. There should be no unpleasant smell from the armpits and other places. This is one of the most important rules in any social situation, let alone a date.
Your hair should always be clean, and your hairstyle must be neat. Greasy hair is the worst offender.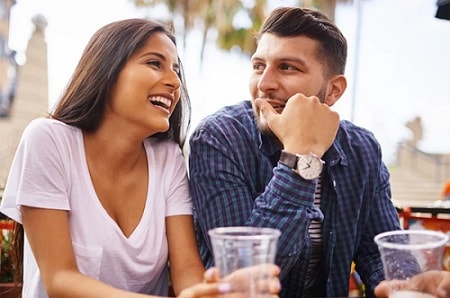 A man should be the main person in a relationship with a younger girl.
This rule generally works well for most couples, but it is especially true if we are talking about a couple with age difference where a man is older. It is not because people owe something to someone but because any relations where participants demonstrate their strongest points will develop in the most favorable way. A man is already wise enough and has life experience, so a woman will easily recognize him as the head of their family and obey him, and this is the role that most women choose.
A man should never be jealous of a younger girl
Jealousy is always a manifestation of weakness. While it is forgivable to twenty-year-old guys, adult serious men can't behave like that. If they can't keep their women in other ways, then the emotional scenes will not surely save but only exacerbate the situation. They will begin to destroy the image of a strong and self-assured man and the whole attraction of such relationships as well.
A man should accept the interests of a girl
When older men are dating younger women, they make one big mistake: they deride the hobbies of their young ladies. The age of 20-25 years is the peak of the search for oneself and the desire for self-development. Different kinds of meditation, changes of religious beliefs twice a month, changes of image three times a day, and hormonal changes — all of this is still in their minds. They still want to join some parties, subcultures of "truly understanding people", and they even do daily meditations, write poems, play the violin, do sports, grow cucumbers, collect different things — that's just a short list of what a young girl can do at the same time. This may seem ridiculous to an adult man who has already found himself and he may even demonstrate it in a not very respectful way. When women are looking for older men, they want to get their understanding.
A man should be experienced in sex
It may seem surprising to many men, but girls get much more pleasure in sex from the experienced men than from their passionate and hyperactive peers. It is all thanks to the experience because older men know how to bring pleasure to their ladies. So, men have to use this experience actively even if it causes some inconvenience to them. In other words, a man should be an altruist. But at the same time, he "leads" in sex, he sets the tempo and rhythm, and a woman obeys him. As a rule, this is the distribution of roles that everyone likes.
A man shouldn't try to get into the company of his girl
Attempt to attend student parties will remind a man about his age. Who are these people? Why are they so stupid? What are they all talking about? He will feel like a mammoth at a nanotechnology exhibition. If a man is going to get into someone else's company, then this will not bring any positive result. It is better to try to find some "neutral" company where people of different age groups will be.
If it happens so and a young girl falls in love with you and you respond to her with the same feelings, then don't refuse your happiness and don't be afraid that a young lover may sooner or later escape to the same young person as she is. No one gives guarantees that you will not do the same and will not cheat on her with a woman of your age. All ages are under the influence of love! So, love and be loved regardless of whether you are older or younger than your better half.